Our members share their expertise and insight on working in the New Jersey wine industry; and on broader industry topics and issues. 
Julianne (Jules) Donnini is the winemaker at Pilesgrove, New Jersey's Auburn Road Vineyard. The winery was founded in 2003 by her and her husband Scott, both former Philadelphia-based lawyers; who left the corporate world and never looked back. Jules is a former litigator and a self-taught winemaker; we talked to Jules about her European approach to winemaking and the winery's Euro-centric positioning – they have an après ski winter party and an on-site enoteca that serves wood fired pizzas – and espresso.
When did you first develop an interest in wine?
JD: In the late 1990s we started to really develop an interest in wine. In those days (the situation is much improved today) the wine selections were really limited locally with Pennsylvania's state controlled alcohol system. We began shopping for our burgeoning passion in New Jersey wine stores which had a much more diverse selection; coupled with visits to family in the area who were generous wine collectors; we fell hard for Italian wines; and were big Zinfandel fans.
What galvanized you and Scott to make the leap from the legal field to opening a winery?
JD: With two young children and working really long hours in the legal field our quality of life was not what we wanted. We were entertaining dreams of starting our own winery; but became serious when Scott's father passed away suddenly right on the heels of 9/11. The idea of life being short really hit home. We had tasted local Pennsylvania wines; but were more impressed by those from New Jersey – Bill & Penni Heritage's wines were the first ones we had and we were further encouraged to look to New Jersey. We started with four partners; began looking for land in New Jersey and took a leap.  
Mitigating risk comes naturally to us both; our goal was to make this our primary jobs and source of income; but we did have an escape plan if needed. Thankfully we never needed to pull the trigger on that and have been making wine here for the past twenty years.
Your winery and wines are Italian-inspired, what particular regions/Italian wine styles serve as inspirations for you?
JD: Super Tuscans were our inspiration; we loved how their dedication to making the best quality wines for their sites created the category that had to be classified outside the official Chianti DOCG system at the time (editor's note: if you're not familiar with the history of Super Tuscans see Wine Spectator's definition here). We also enjoyed the food friendly styles, marked with crisp acidity, moderate alcohol and good fruit concentration. Inspired by those wines we loved to drink, the first grapes we planted were Cabernet Sauvignon, Merlot and Sangiovese.
What do "European" or old world wines represent for you? Has that changed overtime?
JD: Although I realize this is not necessarily true today, my initial impression of European wines compared to California or other new world wines was they were more region-specific; built to be food friendly first and foremost, and more typically small scale, family-run operations. Once we started digging further into Italian wines, we migrated to Piemonte and started drinking a lot of Barbera and in some ways that broadened my understanding of Italian wines but with the same common themes – often an indigenous varietal focus, with pronounced acidity that were well balanced. Also, the vintage variation that was and still evident in European wines as opposed to California is more reflective of the climate here in New Jersey. Once we started growing Cabernet Franc; we also began getting to know French wines; and a visit to the Loire to taste their benchmark Cabernet Francs really underscored my love of wines that express a sense of place, and what I strive to emulate in our wines.
How did you decide who would take on the winemaking role, and did you consider hiring a winemaker initially?
JD: Very serendipitously! As I mentioned when we first bought land we had some friends who came along on the journey as partners. Scott and a partner were experimenting with a home winemaking kit that I still recall them calling 'fool proof'. After I realized they never even read the instructions, I suggested they focus on the operations and other elements and I started digging into the winemaking. Since we had made this venture our primary vocation and source of income for both of our families, we never considered hiring a winemaker and never have. Although we have worked with some wonderful consultants like Virginia-based Tom Payette who has been indispensable to us.
Do you have any formal training as a winemaker?
No formal training, however I did take a UC Davis winemaking course remotely, and have read countless books and done numerous seminars over the years. I did have to take a chemistry course which was a prerequisite for UC Davis, which was of course very helpful. I have found I learned much more from attending East coast focused trade events and speaking with local winemakers; UC Davis and other US-based wine courses can be so focused on California, and we have different climate issues, pests and disease pressures that just don't translate. 
How is being self taught an advantage in a technical field like winemaking?
JD: Winemaking is such a physically and mentally demanding job, and learning on the job has been both rewarding and frustrating at times. I think it has afforded me the luxury of not being too bogged down by hard science, and leaning into the artistry part of the job a bit more. You don't know what you don't know – and that can let you be more experimental and open to new techniques.
What specific winemaking techniques do you feel are more European than Californian?  For example – grape handling, fermentation vessels and temperatures, aging vessels (type and duration), yeast selection, etc.
JD: I think that the lines are continually blurring here. I wouldn't say specific techniques are more associated with European winemaking – but that laser-focus on creating the best wines possible from the land; continually learning which sites match best with which rootstocks and varieties, and leaning into vintage variation year after year keeps me inspired.
Have you encountered any resistance to others in the industry or from consumers as a woman?
JD: Not really. Some people are surprised to learn I am the winemaker as opposed to my husband; but it's been more curiosity, or some off-hand comments. I think people are becoming more used to seeing women in winemaking; we happily have a few other female winemakers in New Jersey and Sloane D'Souza, my assistant winemaker is fantastic. 
Do you think women are particularly well-suited to be winemakers, what advantages/disadvantages are there?
JD: I think women are well-suited to the role; but it is a lot of physical work which is not everyone's ideal – no matter your gender. I think women tend to be more detail oriented, more attentive and more flexible in general – and those are characteristics that are really important for winemaking. Women also tend to be great tasters, which is a huge advantage.
 You have modeled Auburn Rd on an a gritourismo model, does this translate in the Garden State? What challenges and opportunities have you encountered?
JD: Like most wineries in the Garden State we're ideally situated within a two hours drive of major population centers; in our case Philadelphia, New York City and Wilmington, Delaware. I can speak to the appeal of connecting with the land when you live in an urban setting. Visiting a small scale farm where we employ local staff, collaborate with local artists on our labels and work with local chefs on special dinners like our Dinner in the Vineyard series has resonated. We really lean into that messaging, that direct connection with consumers and giving people a place to connect with the land and their surroundings. Some small-minded regulations have been obstacles, but we've had real success, and more importantly have a lot of fun and that shines through.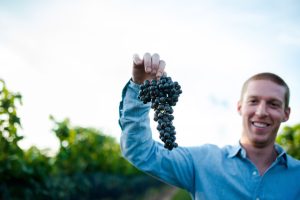 Mike Beneduce, owner and winemaker at Beneduce Vineyards in Hunterdon County, New Jersey is one of the state's biggest proponents of Blaufränkisch. The signature red grape of Austria, Blaufrankisch  is indigenous to Central Europe and known for producing lively, fruity, sometimes peppery reds with sufficient substance in the best examples to be worth oak aging. It has many names – Limberger in Germany, Lemberger in Washington state, Franconia in Friuli, Kékfrankos in Hungary and Frankovka in Slovakia.1 Mike has made Blaufränkisch his winery's signature variety, and we interviewed him to get his perspective on why he's invested so much in the grape, and where he thinks it can go in New Jersey.
When did you first plant Blaufränkisch, and how much do you have under vine?
MB: Our first vines went into the ground in 2009, and Blaufrankisch was one of the first varieties we planted. Since then we've expanded our plantings quite a bit and currently have 5-acres under vine.
Why did you decide to take a position on the grape? What viticultural factors went into that decision?
MB: Our first question was "What grapes are going to be best suited for this land?" I was able to access the past 100 years of climate data for our site in Hunterdon County, and made a map comparing it to the European regions to find what matched our site. I found that Burgenland, Austria, had the most similarities of all the classic winegrowing regions. Other regions that shared characteristics included Alsace and Burgundy in France, and Northern Italy, which drove us to choose Pinot, Chardonnay, and Riesling as well. It made sense to choose varieties that would be well adapted to our climate, because those wines are the most likely to achieve their full potential.
What site selection characteristics make for high quality Blaufränkisch?
MB: Through research I found that soils with a higher clay content are preferable for Blaufränkisch. Our soils are clay-loam with lots of well draining shale underneath, so they are a good match for the variety. After our initial planting, I visited Austria for a few weeks and met with some of the top growers who took me through their vineyards full of 90 and 100 year old Blaufränkisch vines. Most of these growers said their vineyard sites with a high iron content tended to make their favorite wines. When I returned home I double checked our soil tests and found that we had an unusually high iron content across the board, so it kind of encouraged me to double down on the grape.
Climate-wise, the winter minimum temperatures are very important for grape growing in New Jersey. We had to look for winter-hardy varieties because where we are, the temperatures can reach 0℉. We also looked at growing degree days, precipitation patterns, and total precipitation to identify the regions we matched best.
Do you have any specific pests/disease pressure for that grape?
MB:  In the vineyard it's one of my favorite varieties to grow as it's very winter hardy, has a nice upright growth habit, huge leaves (that are easy to remove in the fruit zone) and large, rot-resistant clusters.  It is fairly susceptible to spring frost (it buds around the same time as our Chardonnay) and downy mildew, but so far we've been able to keep that in check. The clusters are around 250 grams each with small berries, thick skins and loose cluster architecture that makes it virtually immune to most fruit rots. I have only seen botrytis in the extremely wet 2018 vintage, and never seen sour rot, which is the main challenge we deal with during wet harvests.
What style(s) are you trying to achieve with the grape? Has that changed overtime?
MB: The intention was always to make a top quality dry red wine. From a winemaking perspective, most of our plants are established and produce more concentrated fruit, so things like maceration time, fermentation temperature, and yeast selection have evolved since we started making wine from it.
We also make a dry rosé that we have produced since our first harvest of Blaufrankisch. For that style I strive to make something crisp and refreshing that has tart fruit characteristics and a sort of verve or energy that makes you want to reach for another sip. During warmer months we sell about 100 cases a month of the rosé and our customers get mad when we run out!
We've also been making a rosé pet nat from 100% Blaufränkisch for the past 4 years that is one of my favorite bottles. Last year it won 'Best Sparkling Wine in NJ' and I think the quality improves every year as we get more experience making it.
What is the winemaking protocol for your Blaufränkisch? Has that changed overtime?
MB: For the red wine we generally fully destem the grapes but don't crush them intentionally. A short cold soak and then inoculating either with commercial yeast or doing a native fermentation depending on the quality of the fruit. Maceration lasts for 2-3 weeks with twice daily manual punchdowns for a more gentle extraction, then we press and barrel down. Malolactic fermentation occurs in barrel, then we rack every 6 months or so for the next 18 months until it's ready for bottling. We started out aging in 40-50% new French oak but have decreased that to 10-20% depending on the vintage. We currently age for the first year in barriques (225L), then move the wine into a large used oak cask (4,000L); which is neutral and brings more harmony to the aromatics and structure.
How have consumers responded to it on your wine list? Are they familiar with the grape?
MB: We sell 100% direct to consumer so we have an advantage in that we have a lot of facetime with consumers to educate them on our wines. Typically when people taste it, they tend to like it. Had we started selling to restaurants or retailers, we may not have had that immediate success. When we started, we called it "Blueprint", thinking it would be easier for consumers to remember, but then we received a cease and desist letter from another winery that owned the trademark to that name. Now we just call it Blaufränkisch and have found that over time it's become one of our most sought after bottlings.
How has critical reception been?
MB: Critical reception has been great. We won the NJ Governor's Cup with it one year, and it is consistently our highest scoring wine among critics. Journalistic reception has been good too, I think because it's a bit obscure and makes for an interesting story, which most writers are looking for.
Do you consider it your signature wine?
MB: I think it's definitely become our signature grape (maybe with Riesling as a close second) because it makes consistently high quality wines year after year on our site. It's ageworthy and complex but also really refreshing and delicious to drink young. It's also great on the dinner table and ultimately I think that's where real wine belongs.
How do you see expanding your Blaufränkisch program in the future? Are there new styles you are experimenting with?
MB: We're considering adding a few more acres of Blaufränkisch when the newer Austrian clones become available, but I also have a long list of new varieties I want to explore here, like Dolcetto and Barbera that we're planting in 2024. We're continuing to experiment with Blaufränkisch in new styles like our Austrian Amarone (only available to our Moonlighter's Wine Club members), which is an homage to the great Italian wine from the Veneto. We do a one week appassimento (drying method) in our greenhouses to partially concentrate the grapes, destem and ferment in open vats, and then age in neutral French oak for 15 months. It has a natural 15.8% alcohol and amazing concentration, so it's been fun to play around with different techniques like that.
Why do you think it can be a successful grape overall in NJ? What characteristics of the grape make it a good fit for the state?
MB: There are at least 8 or 9 wineries that are producing Blaufränkisch in NJ now ranging from north to south Jersey. It's a really good fit for the wide ranges of soils and climates in our state so if there's going to be a signature grape in NJ, I think this will be one of the front runners. The plantings are increasing and there is a high level of quality across the state, and ultimately the grapes making the highest quality wines usually become the signatures of the region. I love talking about Blaufränkisch and welcome any new growers who are considering planting it to reach out to me!
Jancis Robinson https://www.jancisrobinson.com/learn/grape-varieties/red/blaufrankisch