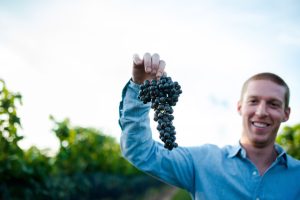 Mike Beneduce, owner and winemaker at Beneduce Vineyards in Hunterdon County, New Jersey is one of the state's biggest proponents of Blaufränkisch. The signature red grape of Austria, Blaufrankisch  is indigenous to Central Europe and known for producing lively, fruity, sometimes peppery reds with sufficient substance in the best examples to be worth oak aging. It has many names – Limberger in Germany, Lemberger in Washington state, Franconia in Friuli, Kékfrankos in Hungary and Frankovka in Slovakia.1 Mike has made Blaufränkisch his winery's signature variety, and we interviewed him to get his perspective on why he's invested so much in the grape, and where he thinks it can go in New Jersey.
When did you first plant Blaufränkisch, and how much do you have under vine?
MB: Our first vines went into the ground in 2009, and Blaufrankisch was one of the first varieties we planted. Since then we've expanded our plantings quite a bit and currently have 5-acres under vine.
Why did you decide to take a position on the grape? What viticultural factors went into that decision?
MB: Our first question was "What grapes are going to be best suited for this land?" I was able to access the past 100 years of climate data for our site in Hunterdon County, and made a map comparing it to the European regions to find what matched our site. I found that Burgenland, Austria, had the most similarities of all the classic winegrowing regions. Other regions that shared characteristics included Alsace and Burgundy in France, and Northern Italy, which drove us to choose Pinot, Chardonnay, and Riesling as well. It made sense to choose varieties that would be well adapted to our climate, because those wines are the most likely to achieve their full potential.
What site selection characteristics make for high quality Blaufränkisch?
MB: Through research I found that soils with a higher clay content are preferable for Blaufränkisch. Our soils are clay-loam with lots of well draining shale underneath, so they are a good match for the variety. After our initial planting, I visited Austria for a few weeks and met with some of the top growers who took me through their vineyards full of 90 and 100 year old Blaufränkisch vines. Most of these growers said their vineyard sites with a high iron content tended to make their favorite wines. When I returned home I double checked our soil tests and found that we had an unusually high iron content across the board, so it kind of encouraged me to double down on the grape.
Climate-wise, the winter minimum temperatures are very important for grape growing in New Jersey. We had to look for winter-hardy varieties because where we are, the temperatures can reach 0℉. We also looked at growing degree days, precipitation patterns, and total precipitation to identify the regions we matched best.
Do you have any specific pests/disease pressure for that grape?
MB:  In the vineyard it's one of my favorite varieties to grow as it's very winter hardy, has a nice upright growth habit, huge leaves (that are easy to remove in the fruit zone) and large, rot-resistant clusters.  It is fairly susceptible to spring frost (it buds around the same time as our Chardonnay) and downy mildew, but so far we've been able to keep that in check. The clusters are around 250 grams each with small berries, thick skins and loose cluster architecture that makes it virtually immune to most fruit rots. I have only seen botrytis in the extremely wet 2018 vintage, and never seen sour rot, which is the main challenge we deal with during wet harvests.
What style(s) are you trying to achieve with the grape? Has that changed overtime?
MB: The intention was always to make a top quality dry red wine. From a winemaking perspective, most of our plants are established and produce more concentrated fruit, so things like maceration time, fermentation temperature, and yeast selection have evolved since we started making wine from it.
We also make a dry rosé that we have produced since our first harvest of Blaufrankisch. For that style I strive to make something crisp and refreshing that has tart fruit characteristics and a sort of verve or energy that makes you want to reach for another sip. During warmer months we sell about 100 cases a month of the rosé and our customers get mad when we run out!
We've also been making a rosé pet nat from 100% Blaufränkisch for the past 4 years that is one of my favorite bottles. Last year it won 'Best Sparkling Wine in NJ' and I think the quality improves every year as we get more experience making it.
What is the winemaking protocol for your Blaufränkisch? Has that changed overtime?
MB: For the red wine we generally fully destem the grapes but don't crush them intentionally. A short cold soak and then inoculating either with commercial yeast or doing a native fermentation depending on the quality of the fruit. Maceration lasts for 2-3 weeks with twice daily manual punchdowns for a more gentle extraction, then we press and barrel down. Malolactic fermentation occurs in barrel, then we rack every 6 months or so for the next 18 months until it's ready for bottling. We started out aging in 40-50% new French oak but have decreased that to 10-20% depending on the vintage. We currently age for the first year in barriques (225L), then move the wine into a large used oak cask (4,000L); which is neutral and brings more harmony to the aromatics and structure.
How have consumers responded to it on your wine list? Are they familiar with the grape?
MB: We sell 100% direct to consumer so we have an advantage in that we have a lot of facetime with consumers to educate them on our wines. Typically when people taste it, they tend to like it. Had we started selling to restaurants or retailers, we may not have had that immediate success. When we started, we called it "Blueprint", thinking it would be easier for consumers to remember, but then we received a cease and desist letter from another winery that owned the trademark to that name. Now we just call it Blaufränkisch and have found that over time it's become one of our most sought after bottlings.
How has critical reception been?
MB: Critical reception has been great. We won the NJ Governor's Cup with it one year, and it is consistently our highest scoring wine among critics. Journalistic reception has been good too, I think because it's a bit obscure and makes for an interesting story, which most writers are looking for.
Do you consider it your signature wine?
MB: I think it's definitely become our signature grape (maybe with Riesling as a close second) because it makes consistently high quality wines year after year on our site. It's ageworthy and complex but also really refreshing and delicious to drink young. It's also great on the dinner table and ultimately I think that's where real wine belongs.
How do you see expanding your Blaufränkisch program in the future? Are there new styles you are experimenting with?
MB: We're considering adding a few more acres of Blaufränkisch when the newer Austrian clones become available, but I also have a long list of new varieties I want to explore here, like Dolcetto and Barbera that we're planting in 2024. We're continuing to experiment with Blaufränkisch in new styles like our Austrian Amarone (only available to our Moonlighter's Wine Club members), which is an homage to the great Italian wine from the Veneto. We do a one week appassimento (drying method) in our greenhouses to partially concentrate the grapes, destem and ferment in open vats, and then age in neutral French oak for 15 months. It has a natural 15.8% alcohol and amazing concentration, so it's been fun to play around with different techniques like that.
Why do you think it can be a successful grape overall in NJ? What characteristics of the grape make it a good fit for the state?
MB: There are at least 8 or 9 wineries that are producing Blaufränkisch in NJ now ranging from north to south Jersey. It's a really good fit for the wide ranges of soils and climates in our state so if there's going to be a signature grape in NJ, I think this will be one of the front runners. The plantings are increasing and there is a high level of quality across the state, and ultimately the grapes making the highest quality wines usually become the signatures of the region. I love talking about Blaufränkisch and welcome any new growers who are considering planting it to reach out to me!
Jancis Robinson https://www.jancisrobinson.com/learn/grape-varieties/red/blaufrankisch